I have read and reviewed 7 of my 10 books of summer.
My #8  book is an unexpected joy– and not on my original list because I didn't know it existed –Claire Keegan's Foster.  This novella, or long short-story of only 87 pages, loaned to me by a friend, is more akin to poetry than prose.  All the usual reviewing clichés about 'perfect jewels' and 'small miracles' must surely apply to this work, which I loved and cannot recommend highly enough. It is so beautifully written.  The main thought I was left with was 'I wish I could write like that'.  And I truly do. I shall certainly be looking for more things to read by this author.
Set (presumably) in mid-twentieth century Ireland, a young girl is sent to live with relatives as her mother is having another baby.  Free of her abusive father,  in the new house the girl discovers affection and a quality of life she hasn't known.  A poignant story set over the course of a single summer, which like all summers, must come to an end.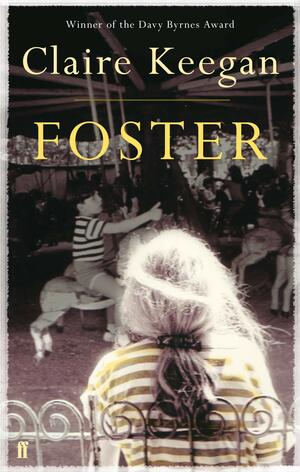 "Downstairs, she fetches the zinc bucket from the scullery and takes me down the fields.  At first I feel uneasy in the strange clothes, but walking along I grow that bit easier.  Kinsella's fields are broad and level, divided in strips with electric fences which she says I must not touch – unless I want a shock. When the wind blows, sections of the longer grass bend over, turning silver."
***
I am nearly there with my '10 Books of Summer' reads which is hardly anything to boast about as I know many bloggers are doing 20.  Still, 'miles to go before I sleep' and all that.  And I have included The Silmarillion so therefore count myself in the top echelons of Those Who Persevere (a) because it is a hard book to read and (b) because nearly everyone is dead by the end.
I have read again the first book of the Earthsea Chronicles, The Wizard of Earthsea by Ursula LeGuin despite having read and reviewed it comparatively recently.   I seem to be craving fantasy just now.  Maybe because reality is too tough.  Not that the Silmarillion characters exactly have an easy time of it.
I am going to Crete in September (can't wait) and I am on the hunt for holiday reading so I shall be visiting as many of my friends blogs as I can over the next week.
I am swopping a couple of books out of my list of 10.  Instead of Wanderlust by Rebecca Solnit I shall be reviewing Sarn Helen: A Journey through Wales, Past, Present and Future by Tom Bullough, published by Granta.  I was going to save this for read Wales week but hey – some things won't wait and just sit there on the shelf going 'read me, read me!'
My final book I have not yet decided. Originally it would have been the Ikeda/Henderson dialogue Planetary Citizenship (Middleway Press).  I will still read and review this book, but I'm not sure I can do it justice before the September 1st  cut off date.  How can it be 11th August already?
Claire Keegan's Foster is #8 of my 10 Books of Summer.