This week and for all of November I shall be taking part in Nonfiction November.  Week 1: (Oct 31-Nov 4) – Your Year in Nonfiction: Take a look back at your year of nonfiction and reflect on the following questions – What was your favorite nonfiction read of the year? Do you have a particular topic you've been attracted to more this year? What nonfiction book have you recommended the most? What are you hoping to get out of participating in Nonfiction November? (Katie @ Doing Dewey)
Konstantin Paustovsky's The Story of a Life is the volume which wins the Volatile Rune Book of the Year Award. Written originally in six volumes, the first three volumes have just been translated by Douglas Smith and republished by Vintage in 2022.  I have already reviewed this remarkable book here and heartily recommend it to anyone interested in Russian history, from the collapse of the Romanov dynasty to the end of the First World War.  This is not a history book as such though, it is a memoire of the things the author personally witnessed.   In that it shares ground with my co-awardee, detailed later in this post.
Paustovsky  was born in Moscow in 1892 although he grew up and was educted in Kiev.  He survived the Russian Civil War, the Bolshevik seizure of power (during which he was almost executed by an over-excited mob which is basically what the Bolsheviks were) and life as a paramedic on the frontlines of  the First World War.
In 1909,  after his father deserted the family, Paustovsky's mother found herself unable to care for him and packed him off to live with an uncle.   After that he wandered from place to place never settling anywhere for long. Although this inauspicious start in life did not stop him from becoming one of the greatest writers Russia has produced. Before he died he was nominated for a Nobel Prize in Literature.
So the Volatile Rune Nonfiction Book of the Year award goes to Paustovsky.  But much as I'm sure the great man would value this award, I do not think he would object to sharing.  Therefore my award also goes to Readme.txt by Chelsea Manning, former US military intelligence analyst and whistle blower extraordinaire.  What do they share in common?  Humanity.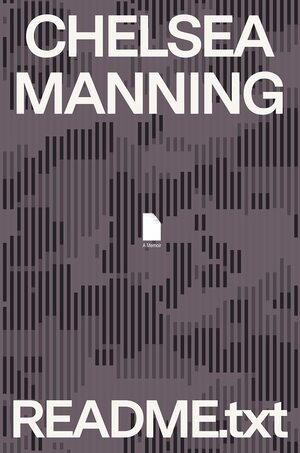 The title comes from the name of the file she uploaded to wikileaks which contained a 39 minute video of US soldiers killing civilians during the Iraq war.  This video later was named Collateral Murder.
A bit of background.  Chelsea's father was in the US Navy stationed in the UK as an analyst at the time he met her mother, Susan Mary Fox,  in a pub in Haverfordwest 'at the tiny pub on Castle Square'.  The two later married and moved to live in the states.   Two children were born (Casey,  and Bradley born a boy who later became Chelsea).  Sadly the marriage did not work out and when the mother, an alcoholic, returned to Wales,  Chelsea briefly went with her, before returning to live with her father in the US.  After her father threw her out, there was a period of her life when she was homeless and living out of a truck.
Sadly it seemed that even at this stage of her life (she's 17 here at this homeless stage) she is still trying to gain her father's approbation. That's one of the reasons Manning joined the army which was probably just about the worst place she could have ended up.
Athough academically brilliant and quickly snapped up for military intelligence work,  Chelsea was emotionally and psychologically torn by her difficult childhood and by gender dysphoria – the feeling of being a woman trapped in a man's body.  At the beginning of the 21st century there was not the conversation around transitioning that there might be now and certainly not within the US army,  with its policy 'don't ask: don't tell' regarding sexual orientation.
If as a trans woman Chelsea could have chosen anywhere worse to be than the army, it would have been prison.  She ended up there too.
The book begins with Chelsea trying to upload a cache of stolen files on DVD from a computer in a Barnes & Noble store using their wi-fi.  Tens of thousands of files were uploaded detailing significant activities during the wars in Iraq and Afghanistan.
Later, these revelations would set Hillary Clinton off weeping about those who endangered other people – which might have been a justified concern –  if it were not for the fact that the leaks were never shown to have endangered anyone nor hindered US relations with any country.  Manning writes that privately Clinton "spent hours on the phone with diplomats all over the world telling them, in fact, that no-one was in danger because of the disclosures…"
That didn't prevent the judge at her Court martial in 2013 sentencing her to 35 years in prison, despite the fact that she had already served years in gaol without trial, including in solitary confinement in an iron cage under conditions that a UN report would later characterise as  "cruel, inhuman and degrading treatment in violation of article 16 of the convention against torture."
I admit to being an admirer of Chelsea and other whistleblowers like Ed Snowden (who told the world about the US Gov mass collection of phone data to use against its own citizens).  I am an admirer of anyone who is willing to stand up to speak truth to power at great personal risk to themselves.  There are always a few good men – and women –  with extraordinary courage, resilience and sheer dogged capacity for surviving things which seem to me unsurvivable.
If I have any complaints about Manning's book it is that it is too short.      I would have liked a little more on her current life.  There is only a couple of pages devoted to what happens after she leaves prison.   Her sentence was commuted by Barack Obama in 2017,  as one of his last acts as outgoing president.
But she says that she is still in therapy for the things she witnessed in Iraq.
README.txt is more than just a book detailing disclosures.  It is a manifesto on freedom and the price of fighting for it.   This is not a price than can be paid by any one individual alone.   A society which bases itself on the torment of individuals can never be free.
"What I did during my enlistment was an act of rebellion, of resistance, and of civil disobedience.  These form a deep and important tradition in our history, of forcing progress – a tradition we drew on to oppose an increasingly sinister Trump administration.  The documents I made public expose how little we knew about what was being done in our name for so many years.  Now we are all left grappling with the past."
***
This has been quite a long post and I still haven't answered all of the questions for week one of Nonfiction November.  I've read and reviewed 12 nonfiction titles so far this year nearly all of them memoire or biographical accounts of artists and musicians, including:  Tchaikovsky, Celia Paul,  Charlotte Mew, T.S. Eliot and Giaccomo Leopardi.  My one political book was Andrei Kurkov's Ukraine Diaries.
Finally, what do I hope to get out of nonfiction November?  Just keep reading more wonderful nonfiction books like these. Currently reading Dorothy Hodgkin, A Life by Georgina Ferry.  Thank you to Sister Rune for the heads up on this one.