This year marks the 100th anniversary of the publication of T.S. Eliot's The Waste Land one of the 20th century's most profoundly unsettling poems and the most famous. Who knows what it is about Eliot's work that keeps us reading and performing it.
T.S. Eliot (1888-1965) was born in St. Louis, Missouri.  Eliot moved to England when he was 25 and settled and married here for which it seems his family never quite forgave him.
According to a recent BBC documentary, Eliot's colleague and fellow American poet Ezra Pound – who like Eliot came to London from the US to forge his literary career – on first reading a draft of The Waste Land said that 'the rest of us may as well pack up and go home.' Mr. Pound did not however pack up and go home.  Crucially, his edits were responsible for the poem as it appears in its known form, the original being a much longer work.
***
I am very much enjoying The Hyacinth Girl: T. S. Eliot's Hidden Muse by Lyndall Gordon.
When in 1969 T.S. Eliot's papers were committed to thirteen steel bound boxes in  a Princeton archive – not to be opened for sixty years – the author Lyndall Gordon was a young student.  On finding out about the cache of letter she vowed to live long enough to see the archive opened,  a vow she was able to keep.  She was the first person through the door at 9am on the 2nd January 2020 when, the steel bands removed, readers were allowed in.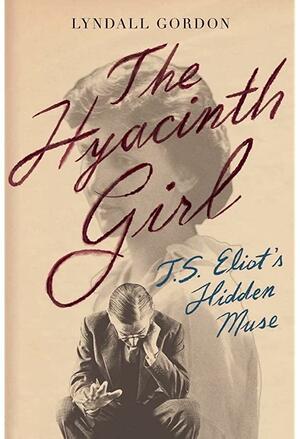 Lyndall Gordon maintained all her life that 'the hyacinth girl' of The Waste Land was Emily Hale, a drama teacher with whom Eliot had been in love in his youth.   Despite being harangued in academia for holding this opinion, Gordon was ultimately to be proved right.   The archive of letters once opened revealed that Eliot had written no fewer than 1,131 letters to Emily Hale, spanning his life from the age of 24 into his sixties.  She had presumably written as many letters back, but few of her letters to him survive.
"You gave me hyacinths first a year ago;

They called me the hyacinth girl".
Mr. Eliot wasn't always a very nice man – his work displays misogynistic tendencies as well as a prone-ness to anti-semitism.  Virginia Woolf didn't like him much on their first meeting.  It was an antipathy which proved mutual.  However, that didn't prevent her recognising Eliot's genius and printing his work for The Hogarth Press, the private press which she founded with her husband Leonard Woolf.
Finance was ever a problem for Eliot and his wife Vivienne.  His father had grudgingly bankrolled them for years but when his father died he did not leave Tom a straightforward legacy as he would to his other children, but tied up funds in a trust.
Thus in 1922, the year of Leonard and Virginia Woolf published this great modernist anthem,  Eliot could be found working in a bank.  This afforded a steady income.   Additionally a widow's pension (those were the days) was a great attraction to Eliot's ailing wife Vivienne, even though the bank job was hardly the obvious career path of a poetic genius.
But working in the city provided some inspiration it seems:
A crowd flowed over London Bridge, so many

I had not known death had undone so many.
Although Eliot later said that the state of mind out of which The Waste Land grew was the result of his marriage to Vivienne the marriage it seemed made them both ill.  Through no fault of her own she was often unwell, both mentally and physically.  Medical ignorance and arrogance, misdiagnosis and prescription of addictive medications like chloral no doubt share the blame for her constant illnesses and ultimately the miserable circumstances of her death.
Despite his growing literary reputation Eliot turned down a prestigious post as editor of The Nation.  Lyndall Gordon asks:
"had  The Waste Land proved him to be the great poet of his age who, by virtue of that, must grant priority to his gift?"
In other words, did his sick and ailing wife hinder his career.  Answer, yes, undoubtedly.  Lyndall Gordon writes that of his wife Vivienne, "Eliot's conscience towards her was scrupulous " although that such scrupulousness would apparently not prevent him signing papers to have her committed to an asylum.
Despite his many protestations of love and inclusions in his poetry of the hyacinth girl that we now know to be Emily Hale, Eliot never married her.  After Vivienne's death in 1947 – in a mental hospital to which she had been committed by the signatures of her brother and husband.  Eliot went on to win the Nobel Prize in Literature in 1948.
He later married his secretary, Valerie, who went on to survive him and was responsible for first publishing (in 1971) a transcript of the original drafts of The Waste Land showing Ezra Pound's edits.
Ezra Pound himself had known fascist and anti-semitic views.  Today Eliot and Pound would probably be cancelled.   But if we cancelled every artist in history with unsavoury views and affilitations, the landscape of literature would look very different.
One of the founding works of modernism The Waste Land is a work at once bleak and beautiful.   Recognising the spiritual malaise that besets mankind and yet yearning for redemption, the poet finally turns to Sanskrit, the language of buddhism,  in a prayer for peace.
Shantih shantih shantih