Always a Beatles fan I didn't realise how little I knew about the factors that led to the band's break up.  Creative differences, yes, but not really any of the specifics.    In a set of contemporary interviews with Rick Rubin (on Disney+) Paul McCartney comments on this:  he was he says heartbroken when the band broke up, he thought he would be in The Beatles forever.
Forever is a long time but it is hard to imagine now that the Beatles were together for only 7 years.  All those iconic songs.    I have been fascinated to watch The Beatles: Get Back, Peter Jackson's documentary footage (Disney+) from 1969 about the band rehearsing for what would turn out to be their last live performance.
Even whittled down, this footage still amounts to three films, each two hours long, so watching is a time commitment, but I am taking it in sections.  The tensions between the fab four in Peter Jackson's film quickly become apparent.
Beginning just after the New Year in 1969, The Beatles for some reason gave themselves only three weeks to rehearse an entire show including writing a dozen new songs.  It seems a crazy thing to do with hindsight or without it.  Under that sort of pressure existing cracks only deepened.   George says at one point: 'perhaps we should get a divorce'.  To which Paul replies: 'I suggested that at our last meeting'. Neither of them is joking.
Given that this is the post Sergeant Pepper era and the band is beyond famous  (John Lennon has managed to get himself into trouble with the establishment by saying that The Beatles are "more popular than Jesus") the rehearsals are a muted affair.  I suppose those of us not involved in the industry only get to see the razzamatazz of a rehearsed and perfected show. But this is a fly on the wall view of what it takes to reach that point.   Rehearsing in a drab looking space in Twickenham Studios, along with George Martin and a couple of roadies, the band is searching for an 8-track recorder.  Where will they get one from!  EMI?  Apparently not.  They end up having to use George Harrison's own 8-track recorder which is says is £10,000 worth of equipment – an unimaginable sum of money back then.  In fact it's still rather a lot now!
I was ever a big McCartney fan and still am.  No amount of footage will stop me worshipping at that particular shrine.  The guy is a genius.    But here  he does come across as a bit bossy and a bit sarcastic with George.  At times the two of them struggle to agree the time of day.   John doesn't help much by insisting on Yoko's presence throughout these tense rehearsals.   There were no phones in those days, she just sits there.   Paul remarks that in fifty years they will say that the Beatles broke up because Yoko sat on an amp.
But the greatest thing about watching this footage  is the chance to see and hear songs like Get Back and Long and Winding Road – songs that have now been famous for half a century – coming into being.   While we are watching try-outs I am telling them they don't have the words right yet.  It should be Jojo left his home in Tucson, Arizona.   Is Tucson in Arizona? John asks.  Yes it is.  It's where they filmed High Chaperral, Paul answers.
The first film ends with George walking out.  He writes in his diary.  'Rehearsed at Twickenham until lunchtime.  Left the Beatles.  Went home.'
What I've been reading
This week I have read Letters to Gwen John by the artist Celia Paul whose autobiographical work Self-Portrait I reviewed here.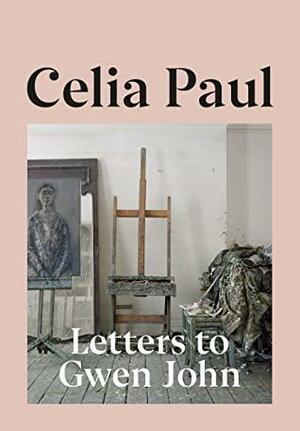 Gwen John (1876 – 1939) was a born in Haverfordwest in Wales.  The family later moved to Tenby in Pembrokeshire.   Her mother Augusta, died when Gwen was a child.
Gwen's life in some respect followed a similar arc to that of the author.  She too attended the Slade School of art (1895-1898) where she was somewhat overshadowed by her brother, Augustus John.   Later she went to Paris on her own and lived alone to pursue her life as an artist.  Although the author has a son whereas Gwen had no children.
Gwen, like Celia Paul,  had a relationship with a more famous and much older man – another Auguste –  Rodin to whom Gwen remained devoted and somewhat in thrall her entire life.    Paul questions their devotion to the men in their lives that came at such an emotional cost.  Gwen she says was always associated with her brother Augustus and with her lover, Auguste Rodin.
"What is it about us that keeps us tethered?  Both of our talents are entirely separate from the men we have been attached to – we are neither of us derivative in any way."  Do you think that, without fully understanding why, we are both of us culpable?"
Although I was not sure this book was quite as good as Self-Portrait Paul's writing is very engaging.  Necessarily, since these letters are addressed to someone who is dead and cannot correspond, the book forms an extension of the first; from an exhibition in New York, up to the pandemic and lock-down.    Celia Paul writes like she paints – every word a carefully placed brush stroke.  I found myself endlessly fascinated by her descriptions of her flat opposite the British Museum which houses her studio and in which she still lives. Here she describes a painting:
"One is of my room at night: the shadows on the ceiling thrown by the streetlights forming a web above my bed, the cross-bar of the window magnified on the wall next to it, an eerie crucifix.  Everything is still.  The colours are rust, brackish-blue and gold.  In the painting of my room in the morning the gentle light washes in through the window, suggesting hope and peace."
Those are commodities the world needs very badly at the moment.