This is Book 1 of my 10 books in the #20BooksofSummer21.  This challenge is hosted by Cathy at 746 Books.
"I thought I'd left all this flâneuring around Paris forever – I do have other interests – but here I am again in your street, this hill of families, writing to you, talking to the dead, archiving."

writes Edmund de Waal in his latest book Letters to Camondo (Chatto & Windus, 2021)
De Waal is well known for his previous book The Hare with the Amber Eyes  in which he traces his own family roots – the fabulously wealthy Ephrussi family – and journeys through their art collections, specifically a group of Japanese netsuke.   Here I have a confession to make.  Despite the great commercial success of this first book I struggled to finish it.  Perhaps because most Jewish stories of the first half of the 20th century tended to end only one way.
I had no difficulty finishing the new book though – in fact I found myself rocketing through it and it is not a long read.  The pages are fashioned (if that's the word) as series of imaginary letters addressed to Count Moïse de Camondo, an Ephrussi neighbour.   The Rothschilds live on the same street – rue Monceau next to the Parc Monceau in Paris.  Theodor Herzl – the architect of Zionism – lives at number 8.  This is the era of the belle epoque; not without its characters, it's wealth, it's intellectuals, it's hatreds.
***
De Waal writes in these letters that he is unsure how to address the count.  Monsieur le Compte he thinks is de trop.  Dear Friend and Cher Monsieur are preferred.
The writer wanders through the house both actually and metaphorically and sifts through extensive archives.   There are art treasures a plenty for the house has long been a Museum, even when it was still privately owned.  This is not solely because of its art collections but in dedication to the death of  Nissim de Camondo, the Count's son, killed in action in 1917.
Nissim's bedroom is a shrine in a house of dust and archives.   There are dizzyingly winding service staircases and echoes of the butler – one Pierre Godefin –  who entered service in  1882 and stays until 1933.  His pantry has clear windows that overlook the park where he sits and orders 'turpentine and chamois leathers and  tissue paper and horsehair brushes'.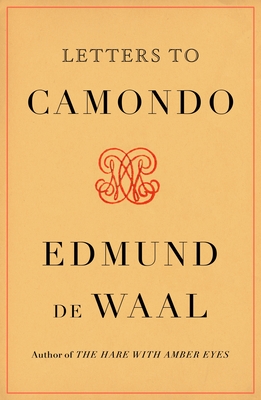 Hôtel Camondo is a place of basements and attics but not memories for who is left to remember?  It takes a rare capability to shuffle through wills, letters, testaments, receipts, records, sketches, catalogues,  invoices, press announcements, invitations,  photographs etc and so to pick out  something truly original about these lives. The author is looking for traces and so starts with the dust.
"To keep dust-free you need to be rich and exacting and have servants to endlessly sweep away all those traces that might show where you have come from."

Without dust, Monsieur it is harder to find the traces.
This book is not a reimagining, nor is it a history as such, nor yet an examination of archival information, nor a commentary, nor an evocation of time and place.  It is, rather,  a combination of all these things.
***
Giving your only son to the war effort for France will not save you or your family.   It will not make you 'properly French'.  After all, you are a Jew.
The same year Nissim is killed, Théodore Reinach  addresses the Union libérale israélite to advance his ideas of assimilation of the Jews into France, "to eliminate all the misunderstandings that could separate the Israelite and the French patriot of the twentieth century."   Two homelands, he vows,  but no barriers.
Alas not true.   Or perhaps assimilation so perfect that the subject disappears completely.
Fanny Reinach has died and given a huge collection of bronzes to the Musée des Arts Décoratifs

Theodore Reinach has died  and given the beautiful Villa Kérylos to the Institut de France

Cousin Béatrice Ephrussi Rothschild has died  and given her absurd pink palace at Saint-Jean-Cap-Ferrat to the Académie des Beaux-Arts.

Your cousin Jack's donation to the Louvre fills 107 pages of the catalogue they print

Charles Cahen d'Anvers has given the Chateau de Champs-sur-Marne to the French nation.

"There is a lot to be grateful to the French for."
None of this gratitude will prevent Camondo's children and grandchildren Béatrice and Fanny and Bertrand and Léon  being rounded up and murdered at Auschwitz.
'Ash,' writes de Waal, 'is a redeemed substance like dust.'