"By 1975 his career was already on its way to legend. Endowed lectures and honorary degrees poured in as he launched new fields of enquiry that changed the face of university life… he moved the humanities from the university to the centre of the political map."
Review:  T. Brennan. Places of Mind: A Life of Edward Said (Farrar, Strauss and Giroux, New York 2021)
Edward Said was a polymath, linguist, musician, philosopher and one of the great minds of twentieth century critical theory.
The son of a businessman, Edward Said (1935-2003) grew up largely in Cairo and later went to the US where he attended Princeton and Harvard before joining the faculty of English at Columbia University in 1963.  Of his subject, Brennan –  a former student of Said and a professor –  writes,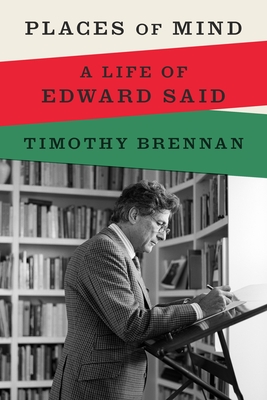 As a child Said became immersed in and inspirated by music and books, becoming a pianist at a young age and reaching a standard that enabled him to consider music as a career.  This was only one of many career paths  open to him.
Ultimately he did not choose music or philosophy or linguistics or any of the many other career paths available to his genius but did his PhD in English Literature at the Universtiy of Columbia, writing his thesis on Conrad, examining attitudes to colonialism in 'Heart of Darkness' and ultimately taking up a Professorship.  Said was instrumental in founding a new stream of literary criticism called post-colonialism. Along the path of his legendary career he met everyone who was anyone in 20th century critical theory including Sartre, Naom Chomsky and Martin Heidegger.  He became according to the author:
"One of the great public intellectuals of the post war period
along with Naom Chomsky, Susan Sontag and Hannah Arendt."
An advocate of the people of Palestine and keen critic of Zionism, Said became involved in the Palestinian National Council and was an advocate for a Palestinian homeland.
He was drawn inexorably into a more active political stance by the 1967 Arab/Israeli war. According to the opinion of FBI surveillance, Said became the "unofficial liaison between the US and the PLO."  He campaigned tirelessly for educational and cultural exchanges between Arab countries and the US and worked to found a Palestine Open University in the West Bank. With his close friend Daniel Barenboim, in 1999 he co-founded the West-Eastern Divan Orchestra, bringing together young classical musicians from Israel and the Palestinian Territories in order to 'promote mutual reflection and understanding'.
 Said's first wife Maire, called him "inaccessible"

"a tripodic genius" who could not be understood though any one of his aspects because he was "a knotted fusion".
This book is also something of a knotted fusion, with so much to fit in it at times feels overwhelming.  This  is a minutely researched and erudite book written by an author with a life time's acquaintance with Said's writings and work – and which assumes some on the part of the reader some understanding of the broad sweeps of twentieth century literary critical theory, modernism, structuralism.  But it also shows Said as occasionally vain,  irascible and prone to depressive illness.
To me the earliest Chapters of this book on childhood and education  were the most accessible – since I am not a student of Said's works and only a general interest reader. This is an academic book written by an academic about a polymath and to that extent some of the ideas are challenging.   But in order to write the biography of a man whose life was not only ideas but ideas in action and who was dedicated to the cause of literature affecting changes in humanity,  this is the only way things could be.
***
Thank you to Farrar, Strauss & Giroux and NetGalley for this review copy.