"None of Anna's early photographs survive today.  The prints faded over time, like memories."
This week a look a photography and memory in two different books.  The world's first photograph was produced by a woman using the cyanotype method of printing which I certainly didn't know before I found The Bluest of Blues: Anna Atkins and the First Book of Photographs by Fiona Robinson  on   John Wreford Photographer's  blog.
"Little Anna's arms are full of flowers: buttercups, forget-me-nots, corncockles, love-in-a-mist, feverfew, and marigolds.  The air is thick with butterflies and bees.  Father carries a jar of clambering insects. A heavy book weighs down his coat."
A gorgeously illustrated book, The Bluest of Blues tells the story of a young girl born around the turn of the 19th century, daughter of scientist, entomologist and a Fellow of the Royal Society John Children.  But despite his name John has only one daughter, Anna.  Left to raise his daughter alone after the death of his wife, Father is determined to give Anna the best education he can.   At a time when women were not considered worth educating – and certainly not eligible to join professional Societies –  John nevertheless determined to teach his daughter everything he could about science and botany.
"Anna is a treasure hunter. Anna is an artist.  Anna is a scientist."
In 1823 her father asks Anna to help him prepare illustrations for Lamarck's Genera of Shells, a guide to the identification and labelling of shells.  She has more than 250 illustrations to prepare.
In 1839 Anna … now a married woman, a botanist and scientist in her own right …
"… is granted  membership to the Royal Botanic Society, one of the few institutions to admit women.  It is a great achievement."
I should say.  And so are the illustrations in this lovely book.   Introduced by Herschel to the cyanotype method of printing,   Anna Atkins goes on to create the world's first photograph effectively a sun photograph of a piece of seaweed.
***
"Only photography shows the flow of time as if it had never existed: just the length of women's skirts sliding up and down.  Text is a different matter: it consists entirely of time, which opens the little windows of vowels and shakes out the moth-like consonants…"
writes Maria Stepanova in her book In Memory of Memory translated by Sasha Dugdale (Fitzcarraldo Editions).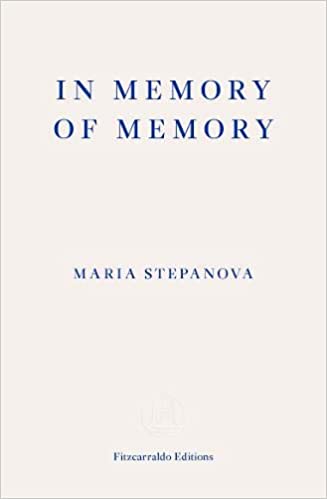 What are the boundaries between personal memory and cultural memory, within 100 years of Russian history?  That is Stepanova's subject matter.     Photography, letters and diaries are an integral part of the work of this author, in recreating lives across space and time.  But memory for Stepanova is not a static idea of recreating something that was, has been, and no longer is. Rather it is a dialogue with other times, seen through the filter of our lives, our own being,  our own reality – and the porous, changeable nature of it. This is the central point of Stepanova's book.
She writes eloquently of her researches, such as this description of a photograph from 19th century Russia:
"Children are playing croquet on a lawn in a Moscow suburb.  The adults are sitting on a bench, or standing, leaning against a tall pine.  An old timbered dacha with a mansard roof and little onion domes continues out of the frame.  The windows are wide open.  The game has been broken off and everyone there has turned to face the photographer:  little girls in knee high socks and white dresses … ."
I thought this book would be about Aunt Galya and the search for family, and in some ways it is.  But piecing together lives across time, across nations; examining lives destroyed by the holocaust or vanished in the race to move on from those single largely unexamined moments, the dark days of survival  the slow becoming of history, this is not just a matter for individuals.
Since the writer and those she is researching cannot exist outside history but are an integral part of it, whether famous or not.  Stepanova's book is part memoir, part personal history, part panoramic view of how personal history coincides with history with a capital 'H'.
There are numerous poignant views, moments, but as much as any, the life of  Charlotte Salomon, 24 years old in 1941, German. Jewish. Artist.  Charlotte spent six months in St. Jean Cap-Ferrat alone in a small hotel living on fresh air.  There she worked on Life? Or Theatre? A sequence of 769 gouache pictures interspersed with text and musical phrase.
"The gouaches were painted on sheets of A4 paper in such terrible haste that she had to hang them around the walls of her little room so that they would dry quicker."  (https://jwa.org/encyclopedia/article/salomon-charlotte)
Now residing in  the Amsterdam Jewish Cultural Quarter Salomon's work is damaged by exposure to light and so is never seen.  It is known only by reproduction and hearsay. Charlotte herself died in Auschwitz in 1943.  The metaphor is clear.  How much do we know ourselves? How much do we know others across space and time? Things that have not been catalogued by a museum somewhere are treated as non-existent, things that life forgets to label   Stepanova's point is that reproduction and hearsay constitute so much of what we know about history with a capital 'H'.  Her other point is that where we don't know things, we make them up, and that made up-ness comes to constitute a 'valid history'. Stepanova writes:   "Every one of us owns his or her  own history, but only up to a point, only while we own our body, our underwear, our glasses case."  It's exactly the complaint I made in my last post on the recent film about the life of paleontologist Mary Anning.  
"The fate of the dead is the latest gold rush; the history of people we don't really know much about has become a major subject of novels and films – of sentimental  speculation and sensational exposure.  No one will defend them, no one asks us."
Thank you to #Fitzcarraldo Editions for the review copy of In Memory of Memory.